It's June 1979 and three miscast heroes of Punk Rock have been washed up on the sandy beaches of Israel. Having left their native England in the grip of what was to be 18 years in the iron grip of Thatcher, Drax, Billy, and Animal begin to embroider a rich and rewarding musical past. A past in which they are musical masters in a revolution that swept all before it back in blighty. After just one Goldstar Beer too many they will tell all and sundry about this glorious musical past in which talent ouzel from their fingertips and they were Punk Rock Gods. Unbeknown to them a hapless dwarf skulks in the corner - Gillad - the rotting swine that was a self styled svengalli for the music starved masses in Israel. Gillad approaches our heroes and proposes a small musical performance for a handful of starved youths. Carelessly it is agreed and our heroes dub themselves "Dead Seamen" a name that will become a millstone in rock history. The Seamen embark on an alien quest - Rehearsals! The evil Gillad is already plotting their downfall and the small musical gathering mutates - KABRISTOCK '79 is born. Gillad wants the Seamen to headline a massive musical event the like of which has not been seen on these shores. The Seamen make a wise decision and refuse. Gillad knows his quarry well " I vill giff you a crate of beer each!" The Seamen bow their heads - they cannot refuse the offer and they wisely recruit help. Soon Trashcan Barrington is within their ranks dispensing advice and roll-ups in equal measure. Within minutes he is the complete master of his chosen instrument - the Stringless Fender Jazzmaster. Likewise the shadowy Toby grasps the slim handle of his instrument of musical expression - the long broom. Sadly Tony lacks any musical talent whatsoever and has therefore the chore of the vocals. Our troupe of hopelessness was completed by the enigmatic Gingey of who little is known apart from the possible preference for large overalls.
Following furious rehearsals - which often lasted until the early hours of the bar opening - the Seamen were ready!
July 9th 19979
The date should be marked in gold on all rock calendars. It was the one and only time The Dead Seamen stepped on to a stage. In their 50 minute "performance" they totally destroyed the nature of Rock 'N' Roll as it was then known. Without this blistering performance it is difficult to imagine that Popular music would have progressed at all - without the Seamen and Kabristock we would have no Oasis, No Verve, No Robbie Williams and certainly No Joe "Shadupyaface" Dolce! Sadly, Phil Collins would still have existed. The Seamen's obvious sartorial eloquence had a profound effect on the post-punk world of the New Romantics who followed the Seamen's lead with clothes, make-up and wigs.
Due to some incredible mix up the opening minutes of the Seamen concert does not exist. This world altering performance commenced when a slightly intoxicated Billy Bassbandit faced a hostile audience alone save for his thrusting Bass Guitar. The audience had endured a lengthy procession of highly talented but dull "artistes" who knew nothing about real Rock 'N' Roll and had no appreciation of the nuances of Punk Rock. The only ray of light came from a young hot axe player who whipped the floor with everyone - including, it can be revealed for the first time, The Seamen themselves.
Bumbandit commenced the Seamen's now legendary show with a short poignant poem about the death of Buddy Holly. Many cried as the torrent of eloquent words tumbled from Billy's mouth. The CD you hear to-day commences with a violent and aggressive cover of the rock monster "Alright Now" - it matters little that the music is completely useless and lacks any real power. The vocal is at best inept. However the spirit of the number is encapsulated in this riveting and unique performance that is almost completely unrecognisable as the number known and loved across the world - a staggering achievement.
Next up is a spellbinding cover of Roxy Music's "Virginia Plain". The Seamen show their musical sharpness when guitarist Drax drops in a few bars from his Rock Opera " With The Gods" Billy chides him with a few well chosen comments. The Seamen dispense with musicianship almost entirely on this cover and make it through on sheer guts and even drop several verses rather than be accused of the bourgeois trappings of musicality.
The Anthem to useless tw*ats everywhere is tackled next by The Lads and Graham Fellows ditty is deftly handled with Drax injecting shades of Reggae into this stuttering masterpiece of punk angst.
Billy steps out next for another poem cunningly titled " A Folk Song". This was widely thought to have been written by Animal but in fact Toby spent a couple of days intricately piecing this to-gether. The visual gag utilising a mask of the then President Begin is sadly lost in audio but explains the "special guest reference" by Billy.
Bowie's ode to the great Iggy Pop - "Gene Genie" is next for the slaughter and as Drax slices into the rhythm one can't help but think how Bowie would feel about this - proud? - grossly insulted more likely.
"The First Time" is a neat illustration of what the Seamen where able to do with a great lost classic. Everything about this song is neat and tidy. Bassbandit's bouncing bassline, Waterman's melodic licks, Animals delicate rhythms, and Tony's majestic vocal. It's on this sublime masterpiece of understated majesty that Gingey makes her first vocal appearance. An influence on Madonna and influenced by, Patti Smith Gingey's sensitive but forceful harmony lines top off this superb performance. Released as a sigle in neighbouring Jordan where it hit the No. spot for 3 weeks in September 1979.
"Because The Night" hands the microphone over to Gingey for a riveting and Dynamic performance of the Springsteen/Smith classic. One of the reasons that Bruce did not release his own version of this song was because he'd been amazed at the depth of feeling achieved by the Seamen on this song, he simply felt he couldn't match it.
As the band's alcohol consumption begins to kick in we can feel the adrenaline rush in the music. Nowhere is this rush more noticeable than in this definitive version of "Wipe Out". Animal is quite simply - Atomic - the band are hard placed to keep pace with Animal as he is let loose on a manic orgy of thumping crashing percussion. The audience were ecstatic at this point and you can here Tal on stage shouting and dancing to Animals primitive driving beat. Animal was certainly a percussionist in the John Bonham/Keith Moon mould and this performance has been sampled frequently in the '90's and formed a large part of the Orb's impressive debut at the Glastonbury Festival in 1995. Some of these mighty beats ended up on no less than 27 top 5 hits between 1989 - 97, a tally exceeded only by the Godfather of Soul Himself - James Brown with a total of 28!

"Framed" was based on a reworking of "There's A Riot Going On in Cell Block 9" but Billy based his version on Alex Harvey's spellbinding tune. Inspired by Animal and Toby's shoddy treatment by Kibbutz chiefs, "Framed" is a searing indictment of a gross injustice. Details are patchy and confused but the inspiration for "Framed" lies in a Mad Scotsman Max ( who was the original inspiration for the "Mad Max" films),Two Welsh maidens and 168 gallons of tepid putrid water - little else is known - suffice to say that only two days after the show a number of the Seamen were sent away! The song it's'self is a superlative performance with Billy's impassioned vocals bringing out despair, aanger, and a feeling of uselessness at the same time.
"Wild Thing" is perhaps one of those songs you think could never be bettered after Hendrix's stunning destruction of the song at the 1967 Monterey Festival. You'd be wrong! The Seamen' cover is quite simply stunning. They imbue the song with humour, bathos, fire and brimstone bringing this heady brew to an overpowering expression of human emotion as the audience become a part of the song. This is just the effect that Pete Townshend tried for in his "Lifehouse" project back in the 1970's - the audience completely in touch with all their emotions and expressing that through powerful and driving music
We're freefalling towards the end of the show now and both Band and audience have abandoned all their inhibitions and are totally united. The Seamen steer a narrow course between total disaster and total success. They hit the intoductions in "T*its" and borrow from the seminal Stranglers, this ditty which is used as a vehicle to allow the Seamen to display their awesome talents. Following a snappy personal introduction Drax takes his solo spot with all the aplomb of a musician who knows he's at the top of his tree. Sparks fly from Drax's axe and land all over the world. This solo single handedly re-invented hard rock as we know it. It's no coincidence that in the early '80's a rash of guitar bands emerged from the States led by Steve Vai and later Slash ( Guns & Roses), they were at this concert sopping up Drax's influence like sponges - the seeds of all those later licks - "Living On A Prayer" "Paradise City" "Sweet Child O' Mine" they're all here! As if that wasn't enough, Animal steps up next to confirm his place on that Great Drum Rostrum in The Sky with his second solo of the show. Combining the complex Indian Para-Rhythms first utilised by Ginger Baker and the staright forward shuffles of Charlie Watts Animal redefines rock drumming for the next 20 years predicting both the greater use of metronomic drum machines and the Bass and Drum patterns of the late '90's. Then Billy reluctantly takes his solo spot. Never one to trumpet his talents, Billy's solo quite simply kills Rock 'N' Roll stone Dead after two bars. There is a breathtaking lack of structure here that really pre-empts Jazz Rock and fusion music by a good 10 years. The reverberations of these three solo's are still fanning out across the planet have undoubtedly changed fundamentally the music we here to-day in whatever sphere we might choose - Jazz, Blues, Rock, Folk - the flavours are all here and have been substantially changed by the Dead Seamen.
The concluding two songs are the sound of the Seamen playing, they have conqured this audience and rewritten the rule book in less than 50 minutes. Pulp front man Jarvis Cocker was widely quoted as saying " Before them, Pop Music was something, after them it was something else" he was reportedly saying this about the Beatles but it was in fact his favourite Band "The Seamen" to whom he was referring. Go Toby Go is the sound of Toby, a Rock Legend enjoying himself. A straight lift from the Stranglers song ( a seminal influence on the Seamen) with words amended by Billy. Toby's manic reading collapses amid manic laughter as Toby's rampant insanity kicks in. The song was, in it's complete form, a touching tribute to The Seamen's fellow Kibbutz Volunteers name-checking several of them. The show-closer was an incendiary cover of Elton's Saturday Night's Alright For Fighting , an in-joke reference to Shabbat! Toby again takes the vocal on this and quite simply shreds the song whilst totally re-inventing it at the same time. Rock and Roll, killed off during Bassbandit's ground breaking bass solo, is resurrected when Toby balls out the lines " With a little G-R-E-A-S-E in her hair!" The song collapses in an orgy of drunken shouting and clapping. Mysterious Hebrew voices in the background have been translated as along the lines off "this is disgusting!" Trashcan exacts his revenge on the evil troll Gillad when he strolls up to the microphone and simply states " Gillad is a W*anker!" The show closes amongst confusion and chaos with Toby shouting " Hit The F*art Song" man sadly the Seamen's instruments are wrestled away from them before they can hit the third Poem which Toby came up with. Printed here for the first time is the majestic Far*t Song

"Far*t's are volcanic eruptions they come from the Island of b*um/through the tunnel of trousers/they come with a musical hum/ THHHHHHWWWWTTTT!!" A sound note to concluded this devastating show on. So that's it. Certainly one of the greatest events in the history of popular music, and until now, comparatively unknown. This show changed the shape of modern music. Who can say what Duke Ellington would have made of this bearing in mind his comments that there are only two kinds of music good & Bad this band are both at the same! In the great tradition of posthumous releases there is a bonus track on this collection. Hitherto unreleased, \ldblquote Jenkinson\rdblquote is a slow urban based blues written by Billy & Drax and played by them alone in the basement of Drax"s rambling country mansion, it is thought, after consuming 12 pints of Tetley Bitter in a secluded Yorkshire Dales Ale House two 6 weeks after there return from Israel. Shrouded in mystery it can now be revealed that the Jenkinson in question was a Howard Jennings sometime lead guitarist with Animal, Drax & Billy's original band, Eclipse. Howard had left Eclipse to marry when they were on the edge of fame a fact that Drax & Billy never forgave him for and in fact never really recovered from. It is not known whether or not Eclipse recorded anything for posterity. They have been described as "brilliant" and Complete Shi*te" so take your pick! The only question that now remains is " Where Are They Now?" Drax disappeared entirely for a number of years but was rumoured to have been spotted in Hong Kong and China in the early 1980's. The death of Deng Xiaoping and the handover of Hong Kong are thought to relate to Drax's activities. To-day he manages a 6,000 acre sheep farm in Australia, alone. Visitors have said he is inclined to lie in the sun after shearing complete with crates of imported Tetley Bitter shouting Pointed Stick and strumming his solar powered guitar. Billy, disillusioned with the music business and shamed by his accidental invention of Jazz Rock headed off to the Scottish Highlands where he lives as a pig on a piggery south of Oban. Animal, beneath the long black wig, was at one point rumoured to be non-other than Roger Moore ex Saint and former James Bond Star. This was complete nonsense, a rumour started by Animal to cover his tracks. He was in fact Larry Mullen SNR., Father of L arry Mullen JNR., who went on to found multi talented U2 who dominated the 1990's with their stadium Rock Anthems. Trashcan Barrington emigrated (illegally) to the states, married well, assumed a new identity, and is currently non-other than Bill Clinton, U.S. President! Tony, took stardom to his heart, returned to London changed his surname to Hadley and founded New Romantic Superstar Band Spandau Ballet! Toby, spent the 12 months following the triumphant show sitting outside a Tel Aviv bar dressed in his characteristic work-shirt clutching his broom. Tragically, he was transferred to a psychiatric ward in England where he regained all his faculties and married Ester Rantzen and shortly after became head of the BBC. The mysterious Gingey remains an enigma and little is know about her whereabouts to-day. However, sales of ladies blue overalls continue to rise with little real explanation. So there it ends the saga of the Dead Seamen, certainly the greatest unknown band to walk the planet and their influence, 20 years on, resonates down the years, and it's difficult to imagine how that influence will not continue to grow in the forthcoming millennium

Courtesy Greg Johnson






Personnel
Billy Bassbandit - Bass, Shouting, Drunkenness
Drax Waterman - Guitar, Vocals, Shouting, Drunkenness
Animal - Drums, Manic Screaming, Drunkenness
Trashcan - Stringless Fender Guitar, Mumbled Speech
Toby - Deluxe Brush, Vocalisation, Manic Laughter
Tony - Soaring Vocal Manerisation
Gingey - Vocals, Overalls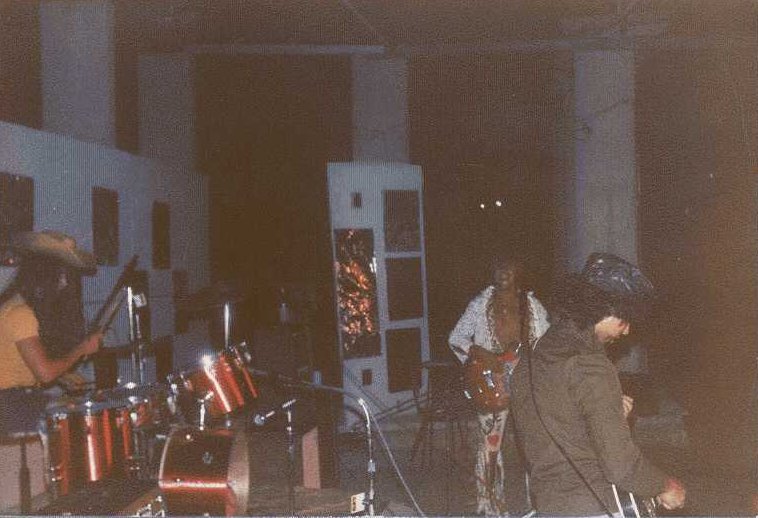 Animal, Billy and Drax.



Performance
Alright Now (Fraser/Rodgers)
Virginia Plain (Ferry)
Jilted John (Gordon Fetherstone)
A Folk Song (Trad, Arr. Bu*mbandit)
Gene Genie (Bowie)
The First Time (Trad. Arr. Seamen)
Because The Night (B.Springsteen/P.Smith)
Wipe Out (Surfaris)
Framed (A.Harvey/A.Cleminson/B.Bu*mbandit)
Wild Thing (Chip Taylor)
T*its (Burnell/Cornwall)
Go. Toby Go (Burnell/Cornwall)
Saturday Night's Alright For Fighting (Elton John/Bernie Taupin)
The F*rt Song (S.Lagden)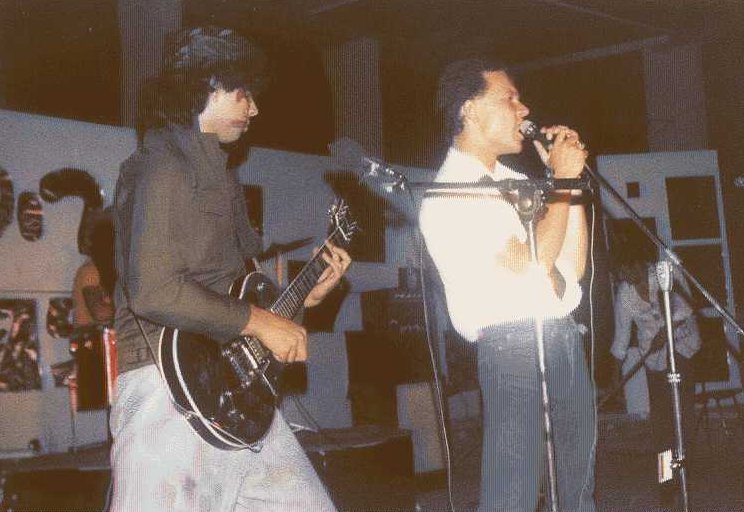 Tony sings "First Time" - Toby sweeps the floor.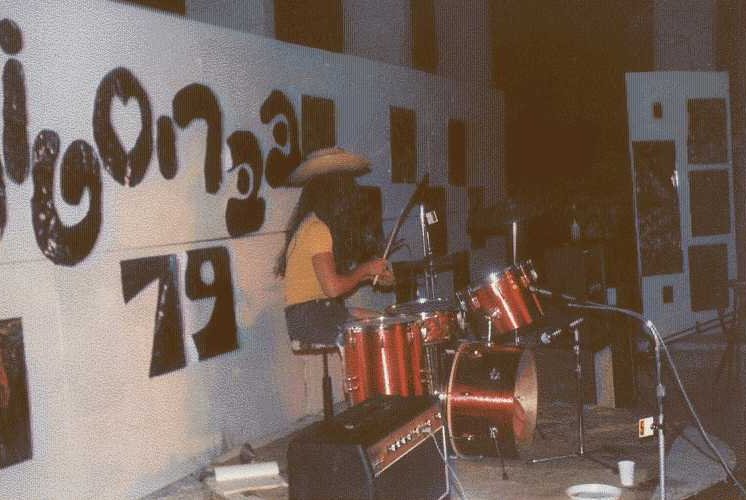 Animal's amazing drum solo.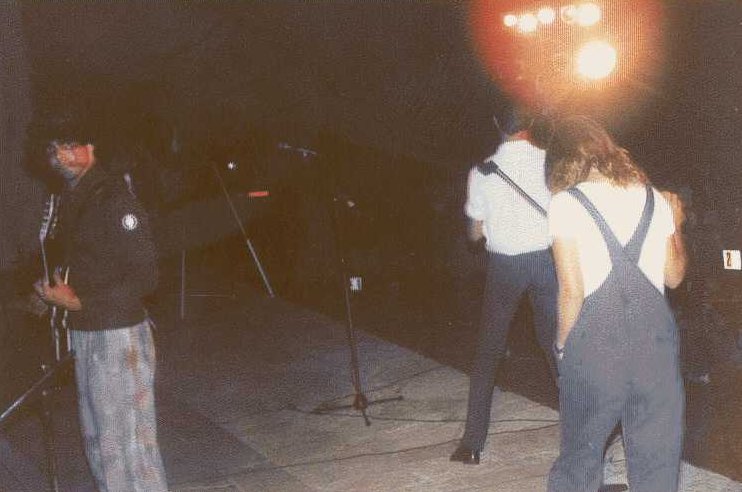 "Because the night" - they turned on the lights!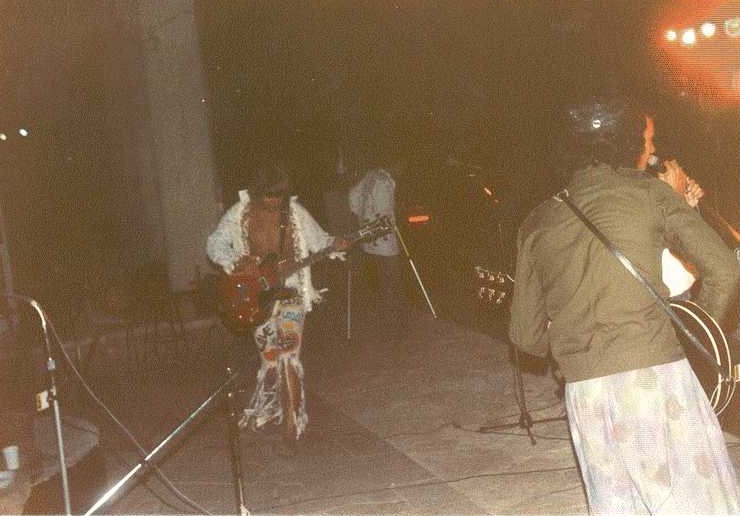 Billy's amazing bass solo.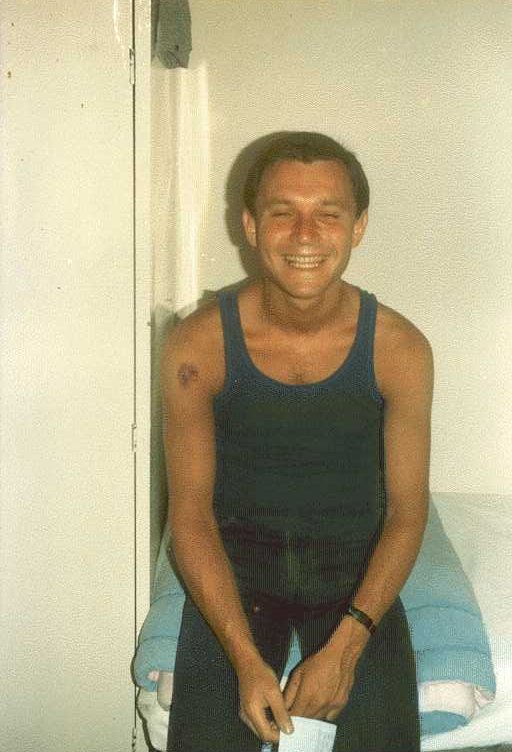 Tony Ruda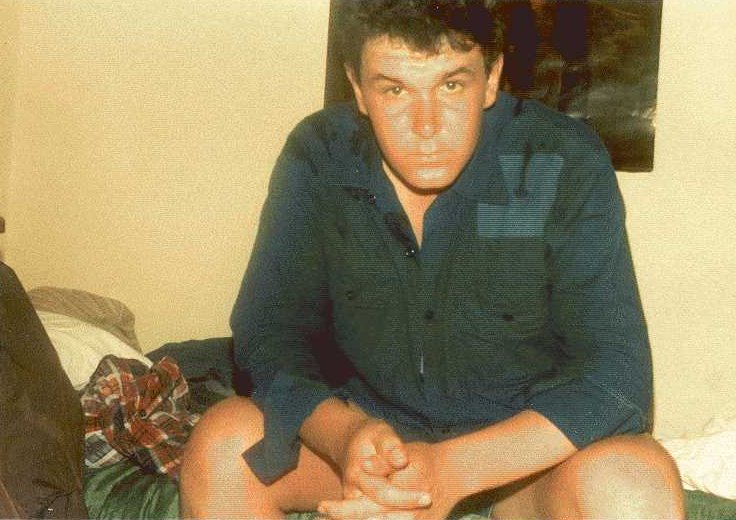 Toby Lagdon - "Where am I - What am I doing here"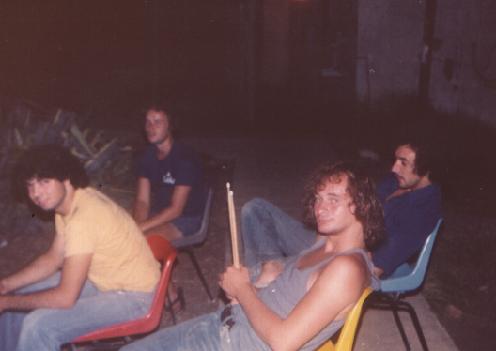 Drax, Max, Animal and Trash.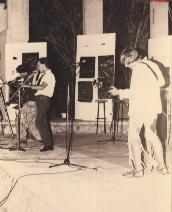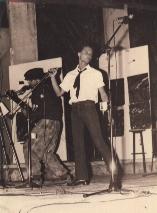 Click on the blue guitars to hear the Dead Sea-Men playing to a thousand people live on kibbutz Kabri in Israel.

"Framed" WAV file

"First Time" MP3 file

"Go Toby Go" MP3 file